SJ-M joins Pepsi,
tricked
by Jolin
Popular Chinese-Korean group SJ-M will officially be Pepsi's spokesperson on the 28th of this month in which the 7 members will attend a press conference in Hong Kong. Pepsi kept SJ-M's addition top secret. Back in February, the 7 members were also arranged to fly to Thailand to shoot a new set of ads. 50 artiste/celebrity security guards and local police are sent to guard the filming location, but SJ-M's fans are very
神通广大*
(resourceful?), the mountain/hill top several kilometers away from the filming location was crowded with fans. Member Henry excitedly said: "This is a larger scale ad compared to the 9 star ad
**
. The few days filming with Alan Luo, Jolin Tsai, Huang Xiao Ming, and Louis Koo was extremely high! They also teamed up and played
tricks
on me!"
Credits: Hong Kong Sun Daily Newspaper and bonbon27hk@baidu
Translated by: Sue@sj-world.net
* 神通广大
in this context basically implies that SJ-M's fans somehow obtained information that they were filming the Pepsi ad in Thailand and the word got around really quickly as they have lots of fans! I know what this 4 character phrase means, but I can't think of an English word/translation for it. Suggestions anyone?
**
I'm actually not sure about this line (今次广告比约旦九星广告更大规模), possibly due to my poor Chinese. 9 star ad? Translations anyone?
整蛊 and 戏弄 both mean "to make fun of", "to play a
trick
on", or "tease"
Chinese version: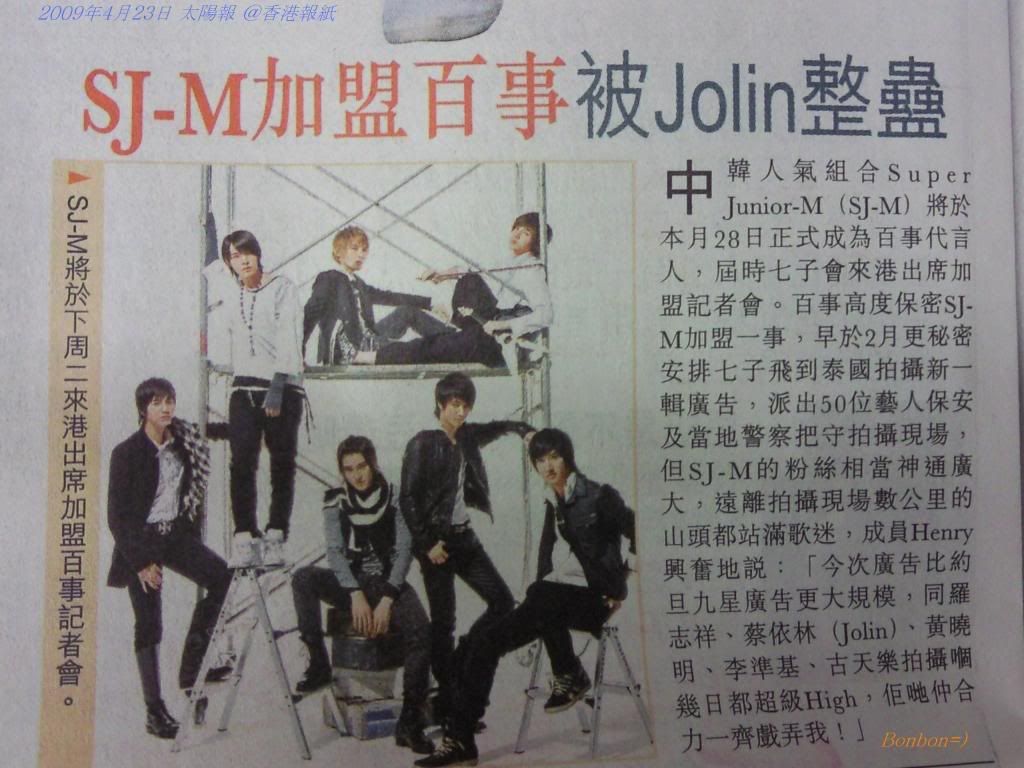 2009年4月23日(星期四)
太阳报@香港报纸
标题: SJM加盟百事被Jolin整蛊
中韩人气组合Super Junior-M (SJ-M)将於本月28日正式成为百事代言人,届时七子会来港出席加盟记者会.
百事高度保密SJ-M加盟一事,早於2月更秘密安排七子飞到泰国拍摄新一辑广告,
派出50位艺人保安及当地警察把守拍摄现场,但SJ-M的粉丝相当神通广大,
远离拍摄现场数公里的山头都站满歌迷,
成员Henry兴奋地说:"今次广告比约旦九星广告更大规模,同罹志祥,蔡依林(Jolin),黄晓明,李准基,古天乐拍摄的那几天都超级High,他们还合力一齐戏弄我!"