SNSD's Tiffany has become the 3rd vocalist on MBC Sunday Sunday Night's Oppa Band.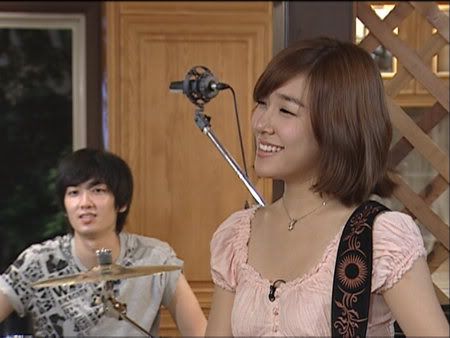 When planning Oppa Band's first perfomance, the 2nd vocalist Seo Inyoung was to asked to help, but because of overseas schedules, she couldn't be in Korea, causing them to face an emergency matter. Manager Kim Gura made several calls, but he encountered a wall. However because of Super Junior's Sungmin, they were able to get Tiffany as a guest vocalist.
[...] At MT*, Sungmin and Trax's Kim Jungmo engaged in hostility with each other, with Tiffany in between.
In honour of King of Pop's Michael Jackson, and for the only woman present, they play the first half of the year's hit song "Gee", with Sungmin and Tiffany singing together, transforming it into a refreshing rock song that matches well with summer. This is confirmed for the second part of Ilbam on the 5th.
original articles:
here
&
here
trans: rocket @ sj-world.net
*MT = membership training, which is like boot camp.